Great American Stone Sealers
|
Saginaw,
TX
76131
|
STONE CLEANING IN WATAUGA, TX
When your stone patio, deck, or paver doesn't look as good as it used to, we can help. As experts in natural stone, our team knows how to protect your stone patios and other outdoor areas. We can restore chipped or cracked stone tiles, add a coat of sealant to preserve your stone patio, or clean off your space with pressure washing. No matter what your issue is, trust us to restore your stone to its natural luster.
Request a Free Estimate
TYPES OF SEALERS & FINISHES
We work with a variety of sealants and finishes to provide you with long-lasting protection and the aesthetics you desire. We work with the following types for your stone patio, deck, or pavers:
FINISHES
Natural Finish
Matte Finish
Color Enhancement (Wet Look)
High Gloss
Low Sheen Gloss
WATER BASE SEALERS
Solvent Base
Acrylic Base
Stone Hardeners
Stone Densifiers
Grip Addictive (To Add Traction)
Concrete Staining

STRIPPING SERVICES

If your stone patio, deck, or paver has an old sealer that no longer works to protect the stone, we offer a stripping service to remove the faulty sealant and replace it with our high-quality products instead. Contact us today to learn more about this service!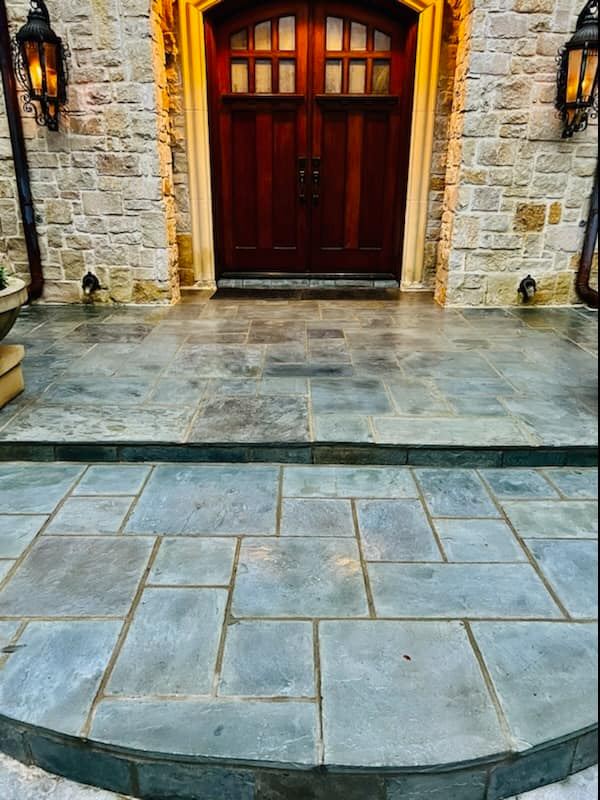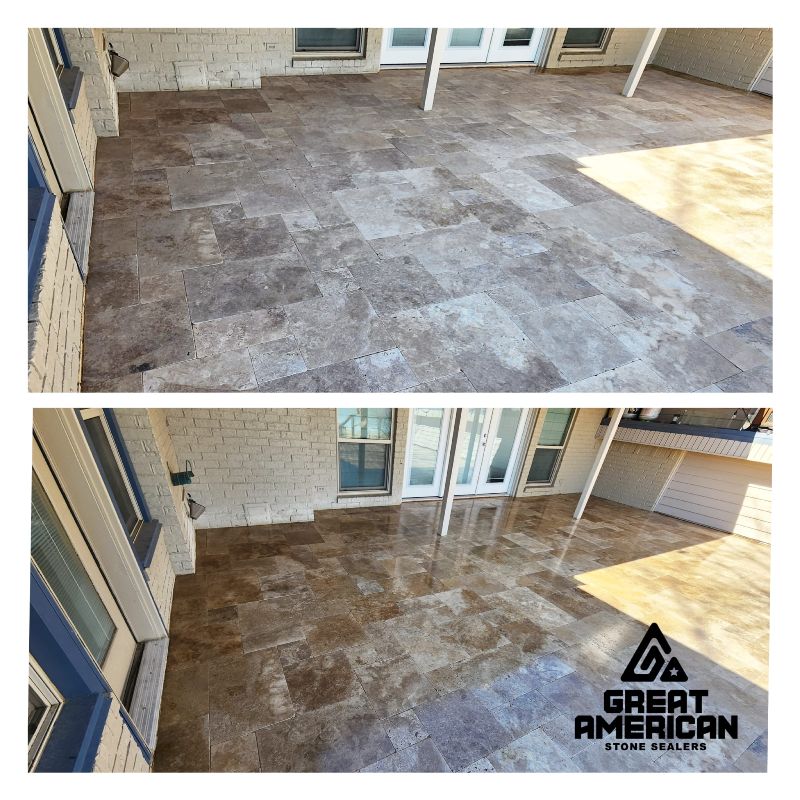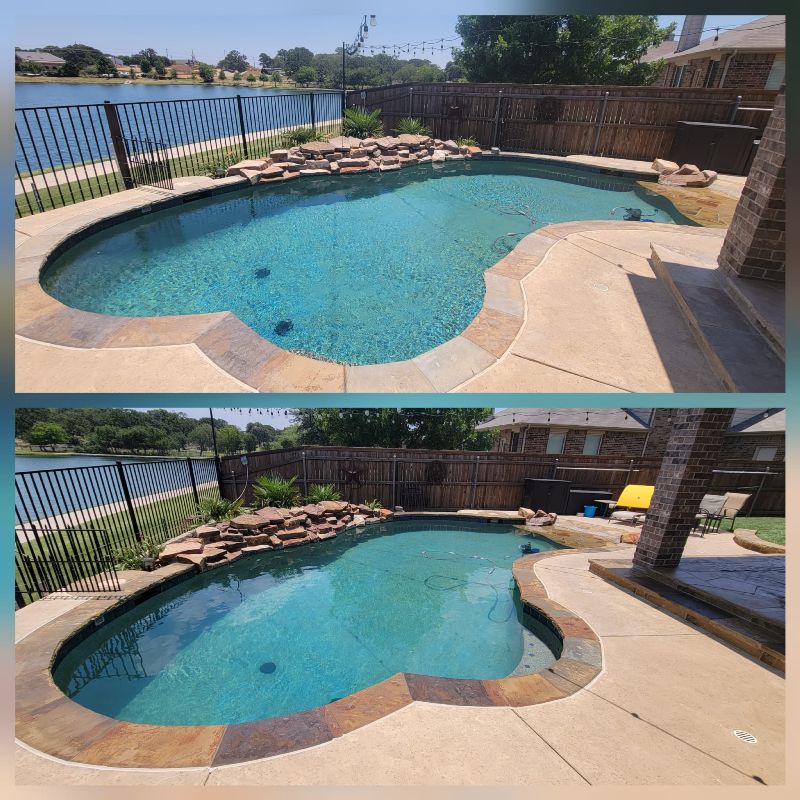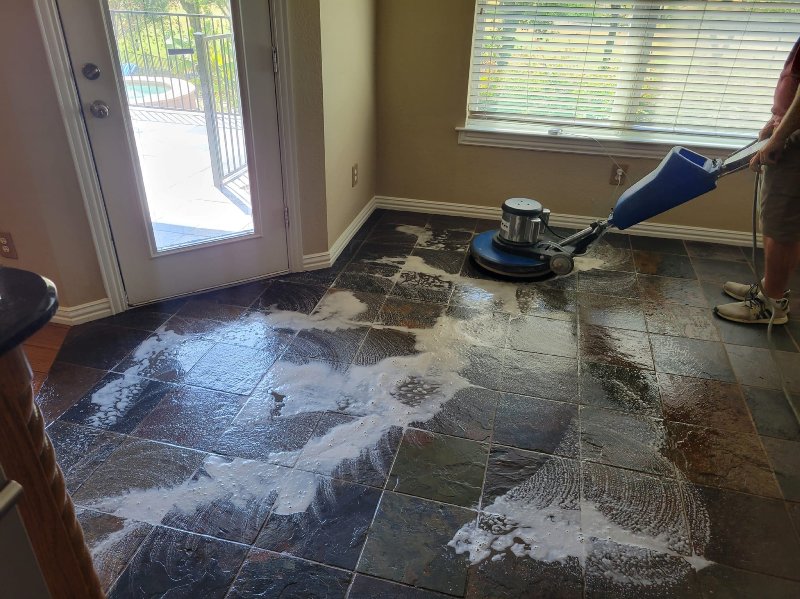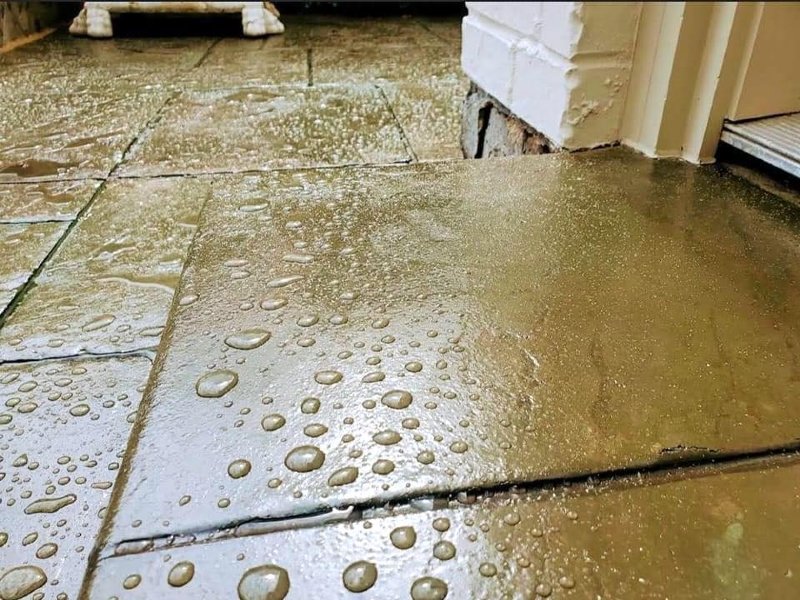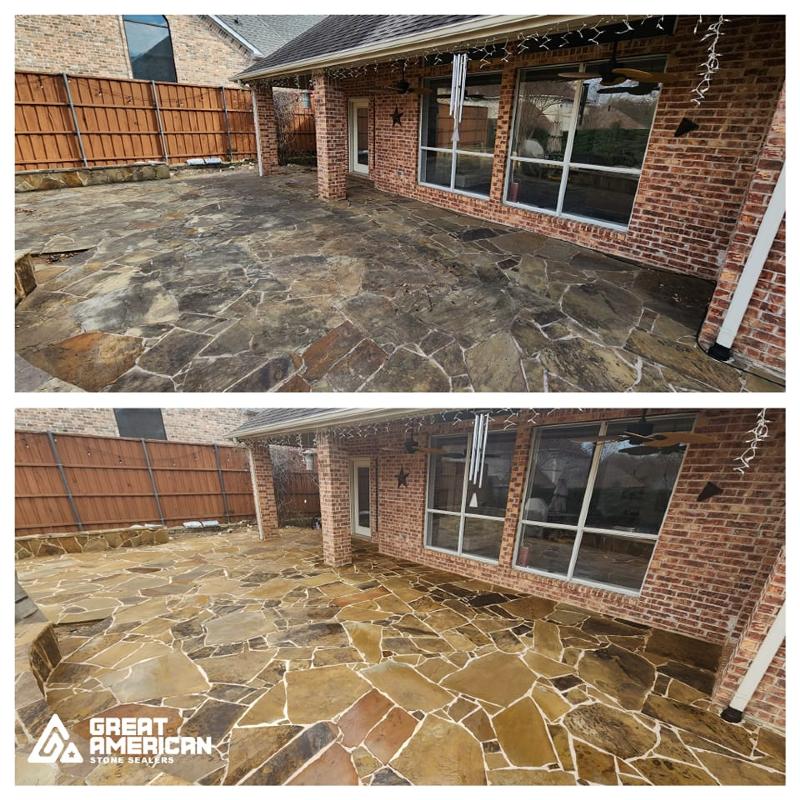 Flagstone

Limestone

Moss Rock

Concrete

Slate

Sandstone

Pavers

Lueders

Travertine
OUR SERVICES INCLUDE: 
Stone Sealing
Stone Restoration
Stone Cleaning
Stone Repair
Patio Stone Installation
Pressure Washing
And More!
WE CAN WORK WITH: 
Flagstone
Also known as sandstone, flagstone is a popular choice for patios, tiles, pool decks, and more, especially in Texas. Because it is a sedimentary rock, flagstone can easily erode and crumble, which makes stone sealing important.
Limestone
Limestone is a beautiful stone commonly used for floors, walkways, patios, and more. Because it is soft and porous, it can be damaged by almost any chemical or element unless sealed by a professional.
Paver Stone
Paver stones, also known as pavers, can be used for walkways, hardscaping, and driveways. They are often made from concrete and a coloring agent, then poured into blocks or unique shapes. Because pavers are mostly used outdoors, they can deteriorate from weather and other environmental stressors.
Slate
Slate comes in a wide variety of colors, from black to rust red. This natural stone is made up of quartz, muscovite, chlorite, hematite, pyrite, and biotite. It is a tough and durable stone, but it can still be scratched by patio furniture or stained by pool chemicals.
Travertine
Travertine is a common choice for pool coping and accent walls. It is a form of limestone that often comes in white, cream, tan, or burnt sienna colors. To ensure that your travertine patio or tiles stay beautiful and durable, you'll need to keep cleaning and sealing them with the help of a professional.
Bluestone
Bluestone is a type of sandstone characterized by fine grains and a rich, grey-blue color. These stones are often dense and durable, which helps prevent them from cracking. However, like all sandstones, bluestone is also porous and requires sealing and cleaning to prevent degradation.
Moss Rock
This type of rock is commonly used for outdoor hardscaping elements like pool pavers, sidewalks, garden walls, and more. Moss rocks are often prone to flaking or cracking because they can easily absorb water. We can seal up your moss rock to prevent water absorption and keep your space looking beautiful.
River Rock
These stones are called river rocks because they are usually sourced from stream beds. They can come in various colors, sizes, shapes, and types. Because they come from riverbeds, they are often eroded into round shapes. These rocks are often placed in an epoxy walkway with other rocks and might come loose over time. We can repair and restore stone walkways of all kinds, including river rocks.
Stacked Stone
Stacked stone is popular for retaining walls, porch columns, water features, and other outdoor applications. The rough, tight-fitting stone helps add visual interest and rustic charm when contrasted with landscaping features. But they can be damaged by moisture, heat, and temperature extremes because they are exposed to environmental stressors.
Coral Stone
This strikingly beautiful stone is composed of small coral and shell fossils, which gives it a uniquely stunning look. To preserve the natural look, homeowners should seal and clean their coral stone to prevent it from stains, environmental degradation, mold, and more.
Quartzite
This metamorphic rock has a smooth, lustrous surface and comes in a wide range of different colors. This durable material is often used for patios and pool copings. Although resistant to heat and acids, it can be scratched or develop white residue from efflorescence. We can protect your stone with careful sealing and restoration techniques.
Soapstone
Soapstone is a relatively rare stone that is composed of talc, magnesite, and small amounts of other minerals. Because of the high talc concentration, soapstone has a soft, soapy texture. It is often used for patios and pool copings. Because soapstone is so soft, it will wear down at the edges and become susceptible to damage. Regular sealant application can prevent this.
Brick
Most homeowners think that their brick structures will last forever, but like all stone, brick will wear down and crumble without proper care. We can clean brick structures to remove discoloration or stains, then seal the clean brick to keep it looking beautiful.
Concrete
Concrete is an excellent option because of its low cost, unlimited possibilities for style and color, and east installation. It has a long life expectancy and is virtually maintenance-free, so you can enjoy your concrete pavers for years to come. Concrete is also a great material for creating custom designs!
Thank you for contacting Great American Stone Sealers. Someone will be in touch with you as soon as possible.
There was an error submitting the form. Please try again.